About Ingrid Fulmer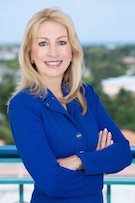 Ingrid Fulmer Professional Experience
Ingrid Fulmer, Senior Leasing Advisor – Office Leasing, for Coldwell Banker Commercial NRT, is a commercial real estate expert with over 30 years of experience in commercial office leasing, tenant representation, and investment sales. As a consistent top producer, Ingrid has been involved in over 4000 lease or sales transactions in South Florida. To date, Ingrid has represented both landlords and tenants in over 20,000,000 sq. ft. of property negotiations representing over $2.8 billion in real estate transactions. Prior to joining Coldwell Banker Commercial NRT in l999, Ms. Fulmer was the Vice President of Commercial Leasing & Sales for Arvida Realty Sales, Ltd. where she was responsible for directing a staff in implementing exclusive marketing, leasing and sales programs for both Arvida/JMB Partners, Inc. and third party developers/institutions.
Ms. Fulmer has consistently been ranked as a Top Real Estate Producer and is the #1 Sales Associate in the State of Florida for Coldwell Banker Commercial NRT. Ingrid is a past recipient of the prestigious Rotary OPAL Award ("Outstanding People and Leaders).  The Florida Real Estate Journal has ranked her as one of the "Top Women in Florida Commercial Real Estate" and she has been named "A Woman of Influence" by the Real Estate Forum.
Ingrid is committed to the community via her volunteer and board work with the Rotary Clubs, PROPEL (People Reaching Out to Promote Education and Leadership) and the George Snow Scholarship Fund where she is active in raising money for much needed scholarships for young people in our community to further their education and pursue their dreams.  She regularly acts as a chairperson for Community Events including Golf Tournaments for PROPEL, various fundraisers for Rotary Clubs and participated as a dancer in Boca Ballroom Battle for the George Snow Scholarship Fund.  In 2010, Ingrid was a finalist in the Woman Volunteer of the Year Junior League Event for her community service efforts.
Ingrid Fulmer Professional Accomplishments & Affiliations
#1 Sales Associates in the the state of Florida for Coldwell Banker Commercial NRT
Real Estate Forums Woman of Influence
Recipient of the 2010 Rotary OPAL Award (Outstanding People & Leaders) 
Junior League Woman of the Year – Finalist – 2010
#1 Sales Associate in the Southern Region of the United States for Coldwell Banker Commercial – 2007
Top Women in Florida Commercial Real Estate –  Florida Business Journal 
Rotarian of the Year – 2002 & 2015
The Florida Bar – Judicial Circuit Grievance Committee – past member
The Florida Bar – Unlicensed Practice of Law Committee – past member
Licensed Real Estate Broker – State of Florida
Ingrid Fulmer Significant Transactions
Boston Proper / CHICOS FAS – 65,000 sq ft / $12,000,000
International Plaza – 7280-7284 W. Palmetto Park Road, Boca Raton – $29,900,000
Parkway Center – 7600-7900 Glades Road, Boca Raton – $38,500,000
One Lincoln Place – 1900 Glades Road, Boca Raton – $10,500,000
1800 Corporate Blvd, Boca Raton – $4,300,000
Mizner Place – 499 East Palmetto Park Road, Boca Raton – $8,450,000
399 NW Boca Raton Blvd., Boca Raton – $4,500,000
Ingrid Fulmer Community Service
Rotary Club Downtown Boca Raton – Board of Directors
PROPEL (People Reaching Out to Promote Education & Leadership) – Board of Directors
George Snow Scholarship Fund – Board of Directors
Boca Ballet Theatre Company – Founding Member